Last Updated:
23/05/2023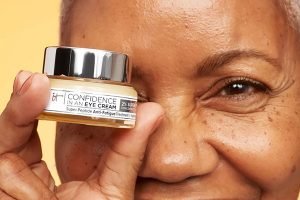 Collagen is a protein found naturally in the body, and it's one of the main building blocks for your bones, muscles, tendons, ligaments, hair and, of course, skin. It's responsible for keeping skin plump and resilient but, as with so many good things, our bodies begin to produce less of it as we get older (starting in our 20s). Sugar, sun and smoking can also accelerate collagen breakdown, leading to lost elasticity, fine lines and a tangible decrease in volume. 
With less collagen to plump it up, skin can become less elastic and less radiant, and fine lines and wrinkles can start to appear. This is a natural part of growing older and there's absolutely nothing wrong with that but, adopting a solid, collagen-rich skin care routine from the get-go — alongside ingestible collagen (yep, that's a thing!) — can help to delay degradation and keep your skin strong, supple and luminous at every life stage.  
WHAT'S THE BEST WAY TO USE COLLAGEN?
You have two options when it comes to collagen: topical products (like creams), and ingestible supplements (in the form of collagen shots, powder or pills). 
There's been a lot of debate around the topical use of collagen — mostly related to the fact that the collagen molecule is too large to penetrate the skin. But creams that contain hydrolysed collagen (collagen that's broken down for better penetration) can solve that problem, especially when they're accompanied by ingredients that help with collagen stimulation (like hyaluronic acid, retinoids and vitamin C). Collagen is also known for being a brilliant moisturiser when applied topically, so at the very least you'll get soft and smooth skin! 
Collagen supplements are an ultra-popular option in the beauty world, and there's more evidence to show that taking these can stimulate collagen production, helping to soften the look of fine lines and wrinkles and promoting firmer, plumper skin. 
HOW OFTEN CAN YOU USE COLLAGEN?
As a general rule, you can use collagen cream and take collagen supplements every day, but always refer to the manufacturer's instructions when using a new product. 
WHO SHOULD TAKE COLLAGEN?
Just about anyone can use collagen but beware if you're vegan or if you have allergies or intolerances to animal products, as most (though not all — more on that later) collagen products are made using animal-derived collagen. Always check product ingredients, and consult your GP if you have any questions or concerns. 
WHAT ARE THE BEST COLLAGEN PRODUCTS?
Here's a selection of our favourite collagen supplements and topical collagen products: 
POWER PLAYER
From the dermatological brand that the beauty world trusts to deliver results, the phenomenal Pro-Collagen Multi-Peptide Booster from PAULA'S CHOICE harnesses no less than SIX pro-collagen peptides (collagen molecules 'snipped' into shorter-chain chunks). Powerfully penetrative and fast-acting, this targets the common complaints faced by those with depleted reserves of this critical 'building block': volume, elasticity, wrinkles, resilience… this silky elixir addresses them all, to revitalise skin that's in need of a, well… booster.  
MIRACLE ELIXIR
Strengthening your skin from within, The Beauty Chef's Collagen Inner Beauty Boost is a bio-fermented probiotic elixir that helps to boost your skin's natural collagen production. This liquid formula is bursting with goodness – grape seed extract, zinc and vitamin C combine to leave skin looking smoother and firmer, while a delicious combination of maqui berry, acai, papaya, blueberry, goji berry and pomegranate make your hair and nails longer and stronger in the bargain.
STROKE OF GENIUS
Looking for a collagen offering that'll fit your vegan lifestyle? Let us introduce you to Algenists GENIUS Liquid Collagen. This unique topical formulation binds together corn, soy and wheat protein fibres – alongside Algenist's signature microalgae oil – to create vegan amino acids that structurally mimic collagen. It's genius, you can't argue with that! Rich in omega 3, 6 and 9, as well as vitamin E, this vegan collagen will restore bounce, resilience and suppleness to your skin – hello, contented complexion!
Try their GENIUS Liquid Collagen Lip formulation too, for fuller, smoother and more defined lips.
SPA IN A JAR
For skin that's in need of a little TLC after a long day, allow Pro-Collagen Cleansing Balm from Elemis to lend a hand. This transformative, 3-in-1 cleanser works to deeply cleanse, nourish and soften in one fell swoop – and it can even be used as a face mask for ultimate nourishment. Boasting a unique blend of nine essential oils, this spa-in-a-jar will leave you feeling invigorated, soothed and perfectly cleansed.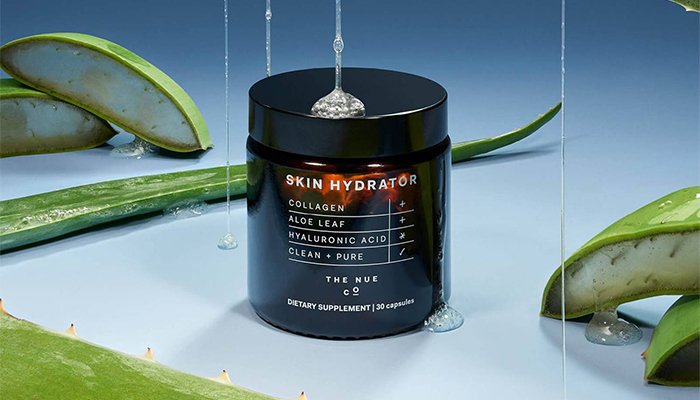 HYDRATION STATION
The Nue Co's  Skin Hydrator features a trio of hydration-bolstering ingredients: PhytoCeramides, hyaluronic acid and, you guessed it, collagen. This blend works to repair skin's defences and strengthen its collagen framework for supple, resilient, luminous skin. These capsules are clinically proven to increase skin's hydration by 16%, boost elasticity by 18% and reduce wrinkles by 9% (increasing, after two months, to 21%, 26% and 18% respectively)!
SCOOP OF GOODNESS
For a collagen supplement you can add to smoothies, porridge or your morning coffee, turn to Vital Proteins. Their collagen powders include good-for-you staples such as matcha and coconut milk, as well as their bestselling Collagen Peptides. The range is approved by the ever-glowing Jennifer Aniston – and if it's good enough for Jen, it's good enough for us!
NIGHT SHIFT
PACIFICA's Vegan Collagen Overnight Recovery Cream is a must for nocturnal nourishment. Flood thirsty skin with a wave of hydrating heavy-hitters (think vegan collagen, antioxidants, vitamins and plant extracts) and wake up to perfectly plump, dewy and radiant skin morning after morning.
CONFIDENCE BOOST
Confidence in an Eye Cream is a super formula from IT Cosmetics that'll make the delicate skin around your eyes appear more supple, healthy and youthful – the ultimate confidence boost! It combines collagen, hyaluronic acid, niacinamide, peptides, a super ceramide complex, chrysin, liquorice root, avocado, squalane and even more high-performance ingredients to hydrate, smooth and refresh skin, making your eyes look more awake and plumping fine lines and wrinkles in the process.