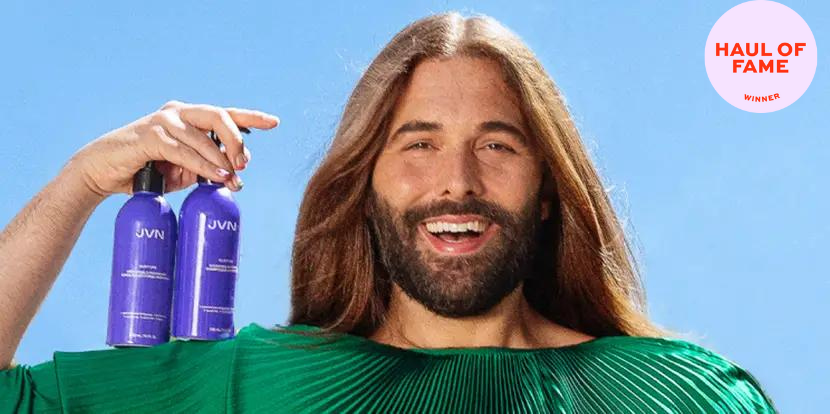 JVN HAIR
Like us, you likely fell in love with Jonathan Van Ness as he swished his gorgeous mane and strutted in mega heels, giggling while delivering some serious grooming know-how on the hit Netflix show Queer Eye. With a long career as a hairstylist working across L.A. and New York, it's no wonder that JVN Hair was born. With inclusivity and gender neutrality at the heart of the brand, you'll find cutting-edge formulas infused with JVN's star ingredient: hemi-squalane. Revolutionising the hair care industry, these vegan and cruelty-free hair heroes champion inclusivity with indulgent formulas made for your truly unique mane. So, in the words of the icon himself, "... find your best hair self" with JVN.
SHOP ALL JVN HAIR
JVN HAIR BESTSELLERS
added to your bag
Sorry, there seems to have been an error. Please try again.
Subtotal: ( items in your basket)
This order will earn status points
Quick Buy
Sorry, there seems to have been an error. Please try again.
DISCOVER JVN HAIR
Born on the ethos that everyone should uncover their best hair self, JVN is one of the first of its kind to celebrate individuality. Bringing a unique fusion of inclusivity, self care and positivity to the industry, the eponymous founder Jonathan Van Ness dreams up shampoos, conditioners, styling products, suitable for all types and textures. Powered by the brand's signature ingredient – hemisqualane – each solution soothes, smooths and adds some shine to your strands.
MEET JONATHAN VAN NESS:
A hairstylist by trade turned Emmy nominated television personality, comedian, New York Times best-selling author and podcaster, Jonathan Van Ness adds brand founder to his CV with the launch of his eponymous label JVN. Determined to change the beauty industry from within, the creative polymath built JVN hair on the ethos that it will serve all hair, while honouring individuality. Working between New York and LA, Jonathan Van Ness used his viral platform to blend inclusivity with self-care.
UNCOVER JVN'S SECRET INGREDIENT:
Powered by hemisqualane, JVN's hair care heroes improve your mane over time by boosting healthier, stronger strands. Designed by a bio fermentation process using consciously sourced sugarcane, the one-ingredient revolution penetrates through your lock's shaft, providing weightless nourishment that helps hair's manageability, while reducing frizz and preserving colour. Getting to the root of the issues, hemisqualane heals your tresses from the inside out by adding softness, slip, shine, and bounce– without compromising its long-term health.