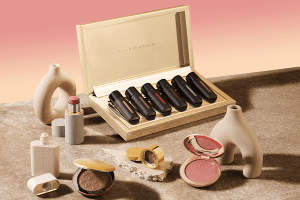 Creator of 'stealth' make up favourites that work to enhance without masking your idio-skin-cracies, prepare to fall blush-over-highlight for Westman Atelier…
One of the beauty industry's most-renowned names, Gucci Westman's editorial legacy is legendary. Drawing upon her extensive industry expertise, this eponymous line-up of mutli-use products is brimming with natural extracts, discerningly sourced to deliver skin-loving enhancement (not to mention, peace of mind)…
From their stunning outsides (these palm-sized products are gratifyingly tactile) to the efficacious contents, each formula works for its coveted spot in your get-ready ritual. From lending luminosity to effortlessly amplifying eyes, it's time to discover your future go-tos…
GET LIT
Brimming with skin-brightening ingredients alongside opalescent pigments to bestow a backlit glow, Westman Atelier's Liquid Super Loaded Illuminator lends a subtle, non-shimmery lustre that's gorgeous alone, underneath or combined with your base for authentic, 'my skin made it' radiance. A multi-purpose must-have, you can use it in myriad ways to lend light where you want it — and it comes in three shades to fulfil your unique beauty needs.
YOU DEW YOU
The ultimate does-it-all hybrid, there's a reason the Vital Skincare Complexion Drops were one of the year's most-hyped launches. Melting imperceptibly to dial up the dew and deliver a natural finish that never detracts from your freckles, this barely-there base is abundant with free radical-fighting antioxidants, revitalising ginseng and conditioning tsubaki oil to cherish and protect against aggressors. Blending with your fingertips for seamless, weightless coverage, the oil-to-serum formula defines 'no make up' make up — granting a confidence-boost without masking your natural beauty.
GLOW ALL OUT
Now in an exclusive summer shade — 'Peau de Santé' — the Super Loaded Highlighter delivers glow and colour in a perfect, palm-sized compact. Clutch bag-compatible, this gleam-giving cream is essential for granting a soft, customisable glow… simply dab along cheekbones and blend with the heat of your fingers to quickly achieve the desired effect. From lowlight to full beam, it's easy to dial up the drama and make every hour 'Golden Hour' (just add Aperol).
BALMY DAYS
Lip gloss for gloss-phobes, Westman Atelier's Squeaky Clean Liquid Lip Balm is laced with a lip-loving medley of natural extracts to plump and replenish your delicate skin. With its innovative gel-oil texture, this softening cocktail of organic jojoba, almond and argan oils works alongside soothing shea butter to ward against the elements while offering a sheer, just-bitten tint (without a hint of stickiness). From pale-and-interesting rosy tones to glacé cherry reds, there's a wearable wardrobe of colours for every scenario. We're prescribing one of each…
EASY ON THE EYES
Boasting rice starch, coconut oil and natural pigments, the Eye Pod in 'Tabac' is the ultimate quick fix whenever you want to look polished with seconds to spare. A flattering bronze-taupe flecked with eye-catching shimmer, this creamy shadow glides over eyelids for velvety payoff that lasts. Kind to your skin thanks to nourishing, all-natural ingredients, this is eyeshadow for those who 'don't do' eyeshadow — making it easy to elevate your look and make an effortless transition from your desk to dinner (and beyond). Plus, its near impossible to mess it up (good news for tube-users and bus-goers).