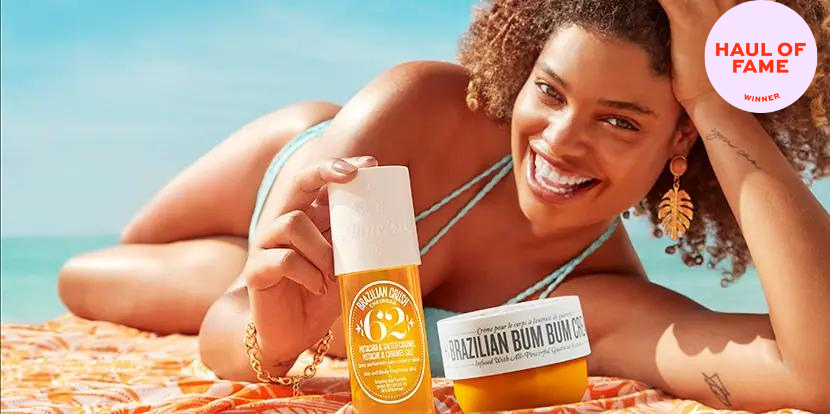 SOL DE JANEIRO
Aptly named after the 'Sun of January' (which refers to when the Brazilian sun hits its highest point), Sol de Janeiro is here to serve up summer feelings, all year round. Steeped in good-for-skin formulas, powered by the Amazon's freshest ingredients, these sunshine-scented must-haves instantly transport you to the sandy shores of Copacabana and beyond.
SHOP ALL SOL DE JANEIRO
SOL DE JANEIRO BESTSELLERS
added to your bag
Sorry, there seems to have been an error. Please try again.
Subtotal: ( items in your basket)
This order will earn status points
Quick Buy
Sorry, there seems to have been an error. Please try again.
DISCOVER SOL DE JANEIRO
Bonding over its love of Brazil's free-spirited nature and unique approach to beauty, the trio behind Sol de Janeiro wanted to give everyone a slice of the country's lust-for-life positivity. Each of the brand's body, hair and fragrance formulas are like a Rio beach bottled up. Luxurious textures and delicious scents – made from the freshest Amazonian ingredients – these beauty essentials envelope your body and hair for total body confidence.

BODY JOY FOR EVERYONE
Giving you the silkiest, softest skin, Sol de Janeiro is on a mission to encourage you to celebrate and flaunt what you've got. That same Brazilian-inspired joy is at the forefront of every formula, transforming your body confidence and championing everything that's unique about you.
SMELL 'CHEIROSA'
Brazilians love to smell good. So much so that they even have a word for it – "cheirosa" – which means to 'smell amazing'. After Sol de Janeiro's signature Brazilian Bum Bum Cream scent became so popular, the brand decided to create limb-loving formulas that tackle everything from texture to moisture-loss, in irresistibly delicious scents.