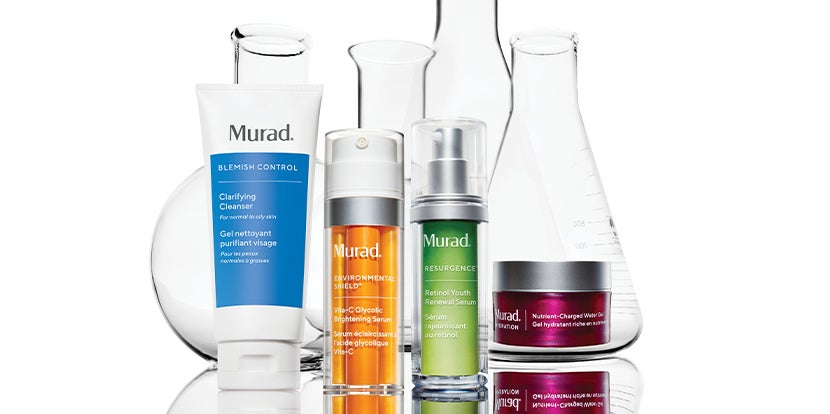 MURAD
Renowned across the globe as the pioneer of revolutionary skin care, Dr. Howard Murad dreamt up his eponymous brand in 1989, after working as a dermatologist in LA. Using the founder's holistic "inside out" approach, Murad skin care is built on the ethos that healthy skin reflects wellness. Not to mention that Murad was the first label to use Esthetic AHA formulas and vitamin supplements to aid a happier and healthier skin barrier.

SHOP ALL MURAD
MURAD BESTSELLERS
added to your bag
Sorry, there seems to have been an error. Please try again.
Subtotal: ( items in your basket)
This order will earn status points
Quick Buy
Sorry, there seems to have been an error. Please try again.
DISCOVER MURAD
Influenced by 30 years of dedicated clinical research, Murad's award-winning skin care collection bridges the gap between beauty and wellness. Striving to promote balancing a healthy lifestyle with using high-performing products, the eponymous brand creates clinically proven and cruelty-free products that are supported by science. Fuelled by Dr. Murad's industry-first research, the line not only addresses common skin concerns (we're talking acne, irritation and redness), but also gets to the root of overall skin health.
MEET DR. HOWARD MURAD
A trained pharmacist, clinical professor of medicine, resident of the University for Inclusive Health and founder of Murad skin care, it's safe to say Dr. Howard Murad is a leading expert in all things skin. From researching into the Science of Cellular Water, to being the first to use active ingredients to promote skin health, the polymath has changed the face of beauty. Today, he continues to create innovative formulas designed to make you feel your absolute best.
BRINGING WELLNESS TO THE PEOPLE...AND PLANET
Paying homage to Dr. Murad's commitment to wellness, Murad skin care is dedicated to improving our planet's global stresses. How? By being cruelty-free, inclusive, and environmentally conscious. Collaborating with TerraCycle, Murad recycles empty packaging into raw materials which can then be used for everything from furniture to floor tiles and more.