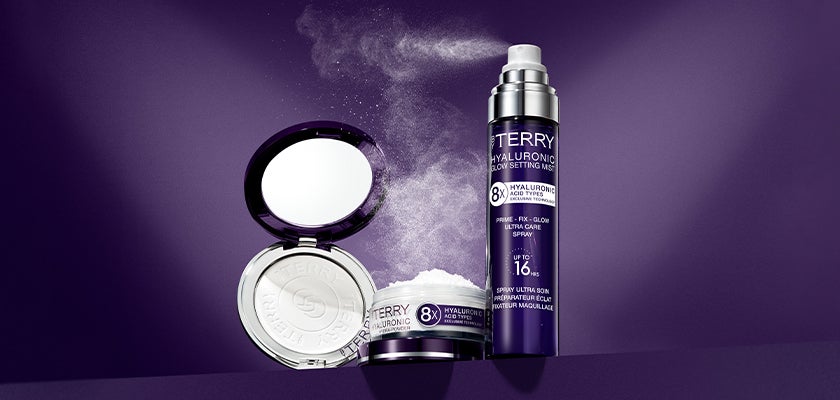 BY TERRY
The brains behind Yves Saint Laurent's iconic colour range and famed Touche Eclat concealer, Terry de Gunzburg, decided to distil her vision into her own eponymous brand, BY TERRY. Built on the ethos that 'a woman's beauty essentials are an excellent moisturiser and a fresh, natural-looking complexion', BY TERRY dreams up skin-friendly formulas including everything from base-perfecting CC creams and concealers to flattering blushes and eyeshadows to help you look like 'you'... But on a good day.
SHOP ALL BY TERRY
added to your bag
Sorry, there seems to have been an error. Please try again.
Subtotal: ( items in your basket)
This order will earn status points
Quick Buy
Sorry, there seems to have been an error. Please try again.
DISCOVER BY TERRY
MEET TERRY DE GUNZBURG
Hailing from a family of scientists (she herself started in the medicine field), Terry de Gunzburg realised she was more creative, moving to Paris to attend the now fabled Carita beauty school. Quickly becoming a sought-after studio make up artist, Terry worked across renowned fashion shows and editorial shoots for prestigious magazines. But her collaboration with Yves Saint Laurent; as its International Make Up Designer, enabled her to create the famed Touché Eclat concealer in 1992 — catapulting her into worldwide recognition. With a radiant, healthy but undetectable approach to make up, BY TERRY was created in 1998, as a 'couture' beauty line offering only made-to-measure cosmetics. However, with its undeniable popularity she introduced this soon-to-be cult brand to the wider market and voila — BY TERRY became what it is today.
BY TERRY'S SIGNATURE INGREDIENT
Pioneering the use of the superhero skin care ingredient, Hyaluronic acid, BY TERRY was the first to create an entire range — from serums to finishing powders, infused with this star ingredient. By encapsulating hyaluronic acid in a powder, BY TERRY was able to add this seamlessly into an array of make up products. Harnessing the power of this potent ingredient meant that the brand could create high-performing products that go above and beyond, by encapsulating the skin with protection and hydration, while delivering undetectable coverage.
BY TERRY'S BESTSELLERS
What started as a mistake in production (due to too much rose extract being added), BY TERRY's bestselling, cult classic, Baume de Rose Lip Protectant was born. Described as the Rolls Royce of lip care, this rose infused rich balm combats dryness and cushions lips for a perfectly protected pout. This bestseller is now part of a wider range that includes a Baume de Rose Face Cream, Mask, Toner, Body Oil and Hand Cream. Gorgeously scented and infused with rose flower essences, rosehip oil and softening butters, this nourishing collection not only looks after your skin but is infused with a heavenly scent that you can't not be obsessed with.