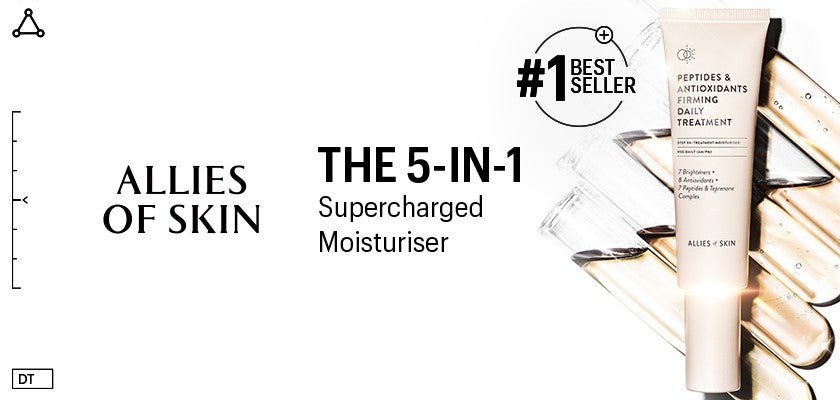 ALLIES OF SKIN
With effortlessness, efficacy and speed at the forefront of all its products, Allies of Skin is back-to-basics beauty for the modern 'multi-hyphenate'. Founded by Nicolas Travis, the brand dreams up supercharged skin care that's highly concentrated, multifunctional and delivers maximum results in minimal steps. With several solutions for a suits-all ritual, Allies of Skin allows you to finally take back control of your complexion, once and for all.
SHOP ALL ALLIES OF SKIN
ALLIES OF SKIN BESTSELLERS
added to your bag
Sorry, there seems to have been an error. Please try again.
Subtotal: ( items in your basket)
This order will earn status points
Quick Buy
Sorry, there seems to have been an error. Please try again.
DISCOVER ALLIES OF SKIN
On a mission to make everyone to feel good in their own skin, Allies of Skin dreams up multifunctional skin care that achieves real results in fewer steps. Following a one-routine-for-all philosophy, the brand encourages and enables an effortless complexion through highly concentrated, supercharged and clinically proven formulas. From cleansers to moisturisers there's a solution for every step of your daily regime.
THE FOUNDER'S STORY:
Nicolas Travis discovered Allies of Skin after he suffered from a tragic accident, which led to several facial injuries. Having to overcome the fear of accepting his new identity, the founder realised if he was experiencing these feelings, others in similar situations would be too. With that in mind, Nicolas set out to help others feel better in their own skin, and thus the aptly named brand was born. Creating formulas that fuse new active ingredients, the brand began its journey with just three products, before expanding into an entire edit that provides a solution for every step of your skin care routine.
THE ORIGINAL FORMULA:
Founded In 2016, the brand opened its doors with its first (and still bestselling) formula – the Peptides & Antioxidants Firming Daily Treatment. Powered by multiple peptides, seven brighteners, nine antioxidants and a 3% teprenone complex, this daily moisturiser works in not one, but five, ways to hydrate, firm, refine, protect and boost brightness. What's more it's dermatological tested and works on sensitive skin.