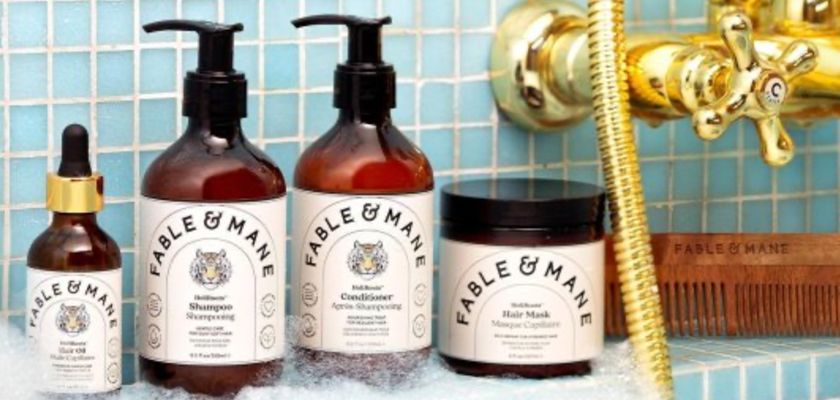 FABLE & MANE
Dreamt up by siblings Nikita and Akash Mehta, Fable & Mane introduces Indian wisdom into Western hair care rituals. Paying homage to the founders' grandmother's tradition of therapeutic hair oiling, the brand fuses Indian plants with the divine scents devised by a world-worshipped French perfumer. The result? A globally renowned collection of Fable & Mane's hair oils, scalp masks, and super-hydrating shampoos and conditioners.
SHOP FABLE & MANE
DISCOVER FABLE & MANE
Born as a solution to tackle the lacklustre locks of Nikita and Akash Mehta, Fable & Mane first launched with a collection of plant-based blends designed to be massaged into the scalp as part of a daily or weekly hair ritual. Fast forward to today and the brand dreams up everything from replenishing hair masks to leave-in conditioners and nourishing shampoos. Treating your tresses to the TLC they deserve; Fable & Mane's hair care boosts soothe and shiny strands after a single use.

THE FOUNDERS' FABLE
The story of Fable & Mane began when Nikita decided to cast her mind back to the power of Indian hair oiling which brought her family together. Going back to the roots, she soon discovered a solution for her lacklustre locks. Mimicking her grandma's remedies, the co-founder massaged her head with a homemade blend of plant oils. The results? A healthy and happy head of hair that she wanted to share.
PROTECTING THE PLANET
Fable & Mane believes that protecting your hair should not come at the expense of the planet – and we couldn't agree more. With that in mind, the brand introduces the Fable Fund foundation. The organisation protects the planet's most sacred creatures – wild cats. Built on the ethos of Ahimsa – the principle of non-violence towards all species – the trust raises awareness and supports local conservation to reduce wildlife conflict and revive the habitat of wild tigers.