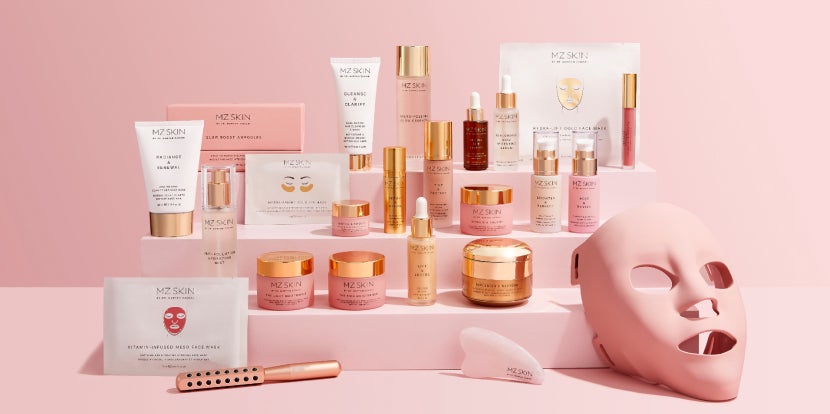 MZ SKIN
Dreamt up by London's premier Oculoplastic Surgeon and Facial Aesthetics Doctor, Dr. Maryam Zamani, MZ Skin is science backed and performance driven. Packed with innovative formulas that fuse intelligent ingredients (we're talking ovine placenta, stem cells, and hyaluronic acid), the brand's skin care selection includes everything from Cleanse & Clarifying treatments to Supercharged LED face masks. What's more, MZ Skin is not only cruelty-free, but avoids the use of skin-damaging preservatives too.
SHOP NOW
MZ SKIN BEST SELLERS
added to your bag
Sorry, there seems to have been an error. Please try again.
Subtotal: ( items in your basket)
This order will earn status points
Quick Buy
Sorry, there seems to have been an error. Please try again.
DISCOVER MZ SKIN
Born as a result of necessity, Dr. Maryam Zamani founded MZ Skin to prove that there no longer needs to be a compromise when it comes to beauty and functionality. Building a bridge between medical know-how and everyday skin care, MZ Skin fuses in-depth research with potent ingredients to create trusted treatments that provide soothed, smooth and subtly sheen skin.
MEET THE FOUNDER
Dr. Maryam Zamani, otherwise known as the "eye doctor", not only discovered MZ Skin but is also a world-renowned Oculoplastic Surgeon and Aesthetic Doctor. With over 15 years of experience in the field, Dr. Maryam Zamani has gained an innate knowledge of what people what from their skin care regime, and how they can achieve this from the comfort of their own home. Going one step further, the founder takes the time to understand how actives interact with our skin cells to ensure MZ Skin's collections achieve powerful results.
THE SCIENCE BEHIND THE BRAND
Based on Dr. Maryam Zamani's three-step skin care philosophy, MZ Skin aims to reveal, enhance and protect. Everything from the brand's eye and face masks to its depuffing and defining cream, is powered by trusted actives that have been proven to provide results.
The first of MZ Skin's key principle, reveal, uses enzymes and optimal acids (such as AHAs and PHAs) to gently exfoliate and provide a smooth, refine, and bright complexion. Then comes the act of enhancement. Here, the products penetrate to deeper layers of the skin by using vitamin A, retinol and other potent pairings. And last, but by no means least, there's the aim to protect. Using antioxidants and SPF, MZ Skin reinforces the skin's barrier to shield you from environmental and external aggressors.
CLEAN & CONSCIOUS BEAUTY
Allowing both you and Mother Nature to feel and look beautiful, MZ Skin believes that skin care should be clean. With that in mind, the brand's formulas are backed by science and work alongside the planet to provide optimum results. How? By ensuring all MZ Skin products are free from
silicones, parabens, and sulphates. Instead, it uses only active ingredients based on highly effective results.