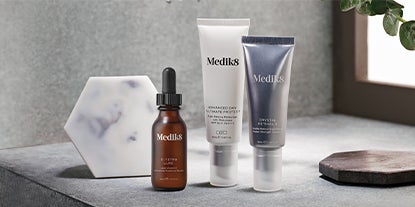 MEDIK8
Making skin care simple, Medik8 takes the fuss out of caring for your complexion. Powered by three key ingredients: vitamin C, vitamin A and non-negotiable SPF, the brand's signature skin care saviours are famed for their potent potions designed to reduce the appearance of fine lines while evening out skin tone and texture.
SHOP ALL MEDIK8
MEDIK8 BESTSELLERS
added to your bag
Sorry, there seems to have been an error. Please try again.
Subtotal: ( items in your basket)
This order will earn status points
Quick Buy
Sorry, there seems to have been an error. Please try again.
DISCOVER MEDIK8
Medik8 is a pioneering beauty brand focused on formulating simple, but incredibly effective, skin care for all ages. Founded by Elliot Isaacs, the brand uses vitamin C and vitamin A at the core of every formulation. Now, with a wide range of complexion heroes, Medik8's mission is to create simple and easy to use essentials that promote 'beautiful skin for life'. With 15 years of experience, as a professional skin care creator and a background in physiology, pharmacology and biochemistry, Elliot Isaacs continues to innovate within Medik8 using cutting-edge technology, ensuring the brand creates products with effective results.
CSA PHILOSOPHY – VITAMIN C – SPF – VITAMIN A
The philosophy behind Medik8 is simple; wear vitamin C and SPF in the day and use vitamin A (retinol) at night. Sticking to this science-proven formula serves your skin with everything it needs to be balanced, strong and beautiful. Paired with protective SPF, vitamin C provides antioxidant protection and stimulates natural collagen production. At night, vitamin A looks to improve cell renewal by rejuvenating them while you sleep.
SMOOTHING SKIN CARE
Dreaming up products that get to work on hydrating, plumping, smoothing and boosting skin with radiance, Medik8's routine suits all skin type. For daytime, The Medik8 vitamin C range features products like the much-loved Medik8 C-Tetra Serum and the Daily Radiance Vitamin C moisturiser that work to boost collagen, add brightness and deliver a deep dose of hydration. And, come night time indulge in the Advanced Night Restore moisturiser, after you've applied your go-to retinol.