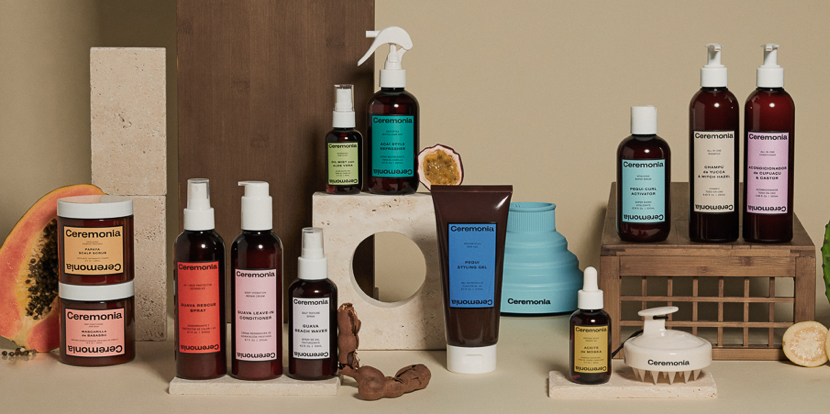 CEREMONIA
Inspired by founder Babba Rivera's own heritage, Ceremonia is a clean hair care brand that's rooted in Latin rituals. The mission? To empower the next generation to celebrate natural tresses and lead the way towards a more sustainable future. Every product is toxin-free and formulated with nutrient-rich, raw ingredients — derived from the heart of Latin America. Addressing everything from scalp health to frizz, expect to discover your best hair days yet.
SHOP ALL CEREMONIA
CEREMONIA BESTSELLERS
added to your bag
Sorry, there seems to have been an error. Please try again.
Subtotal: ( items in your basket)
This order will earn status points
Quick Buy
Sorry, there seems to have been an error. Please try again.
DISCOVER CEREMONIA
Inspired by her Latinx heritage and the beauty rituals she grew up with, Babba C. Rivera founded Ceremonia to create clean, gentle hair care for all. Powered by key ingredients sourced in Latin America, the brand's mission is to enhance your natural locks. Manifesting modern day rituals, the brand's product feed your strands from the roots unlocking only the best hair days.
MEET THE FOUNDER
Growing up as a Latin American in Sweden, Babba C. Rivera noticed her heritage being underrepresented in the mainstream beauty market. With that, she decided to take matters into her own hands and dream up Ceremonia. With hair care rooted in her DNA, (as the founder's father was a hairdresser), Babba was determined to change the narrative for herself and those just like her. Relocating to American, she reconnected with her Latinx legacy and began her journey to creating hair care heroes for those often overlooked.
FROM LATIN AMERICA
Powered by key ingredients native to Latin America, Ceremonia's products strengthen strands while addressing scalp health and tangled tresses. While the brand's signature Babassu oil derives from Peru to regenerate hair and sooth scalp irritation, the Maracujá Oil – that promotes shine, softness and sheen – is sourced from Ecuador.
CLEAN FORMULAS
Born at the intersection of farms and labs, Ceremonia hair care only uses clean and natural ingredients to look after planet Earth and all its inhabitants. Always one step ahead of the game, the brand creates their own original formulas free-from silicones, parabens, sulphates, phthalates, artificial colorants and a long list of other not-so-great ingredients