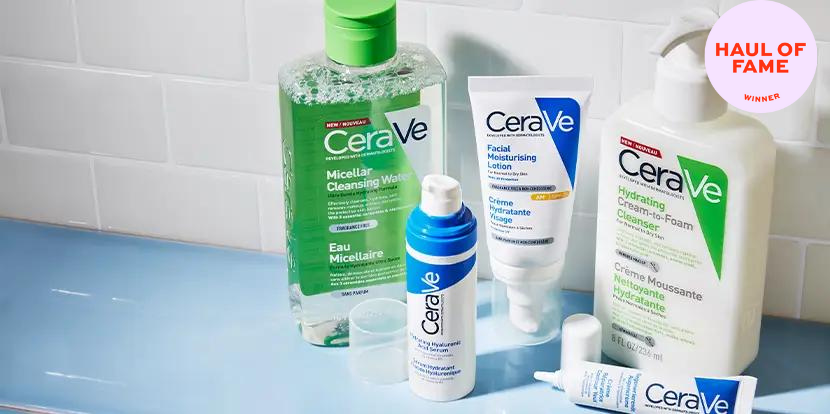 CERAVE
Rejecting the notion that effective skin care must sit at purse-clenching prices for it to be deemed trustworthy,
CeraVe
are committed to delivering a line of affordable products that truly work. Cutting through the fluffy jargon with an ingredients-first approach, their essential blend of ceramides and fatty acids at the centre of every cleanser and cream leaves your skin feeling healthier and happier. Guaranteeing love-at-first-pump and proudly perched in bathroom cabinets everywhere is a member of their incredibly gentle and hardworking skin care range.
SHOP ALL CERAVE
CERAVE BESTSELLERS
added to your bag
Sorry, there seems to have been an error. Please try again.
Subtotal: ( items in your basket)
This order will earn status points
Quick Buy
Sorry, there seems to have been an error. Please try again.
DISCOVER CERAVE
Since 2005, CeraVe has been formulating science-backed skin care. The brand believes that it's the expert touch that makes all the difference. So each ingredient and formula combination are researched and backed by dermatologists to ensure your skin gets exactly what it needs to repair, restore and continue to thrive. The CeraVe experts noticed that with many different types of skin conditions and issues, the skin's natural protective barrier needed help, which is why they decided to create formulas specifically for this. CeraVe products work to build and restore this natural barrier, working with the foundations of your skin to create a happier, healthier complexion, without the fluff. Now used around the globe, CeraVe skin care includes effective cleansers and moisturisers that focus on building a stronger natural protective barrier. One that's able to lock in moisture and keep your skin hydrated, healthy and ready to take on the world.
RESTORE YOUR BARRIER WITH CERAMIDES
CeraVe focuses on the science of ceramides to formulate skin care that builds strength and resilience. Using an innovative combination of 3 essential ceramides, CeraVe skin care helps you to achieve healthier, stronger skin from the very first use. So, what are ceramides? Ceramides are the naturally-occurring lipids that make up your natural protective barrier. They strengthen your skin cells, lock in moisture in and prevent harmful elements that can lead to skin issues, such as blemishes, irritation, psoriasis*dehydration and more from breaking in. The 3 ceramides used in every CeraVe skin care product are identical to the ceramides found naturally in your skin. Using these ceramide-rich products helps your skin to restore its natural ceramide levels and build strength and balance, leading to overall happier and healthierlooking skin.
MULTIVESICULAR EMULSION TECHNOLOGY
CeraVe's innovative formulas also use MultiVesicular Emulsion Technology – or MVE. In fact, they're the only brand that uses this combination to create highly effective and affordable skin care. CeraVe's MVE technology lets the ceramide-rich products continually release into the skin, slowly allowing the ingredients to get to work replenishing your natural barrier during and after use. From CeraVe cleansers and moisturising creams to its cult CeraVe healing ointment, choose skin care that continues to work all day to strengthen your skin.
SCIENCE-BACKED AND AFFORDABLE
CeraVe believes in effective skin care that is backed by scientific research and developed with dermatologists. And all at affordable prices. With products that focus on specific skin issues, CeraVe products allow everyone to tap into dermatologist-recommended skin solutions – that effectively get to work as you use them and continue working for your skin long after.