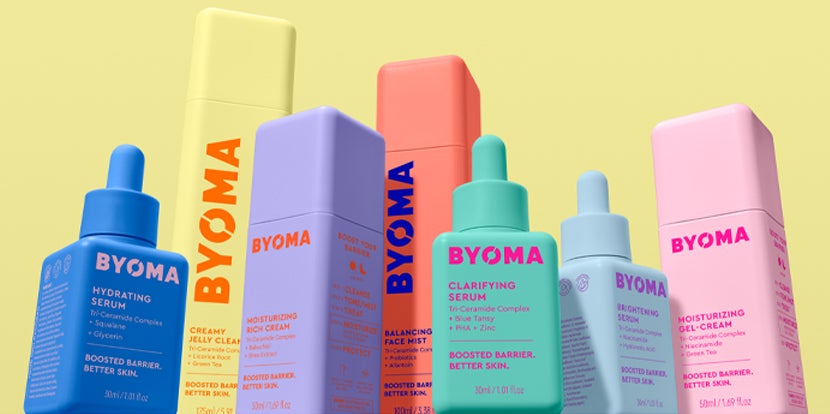 BYOMA
BYOMA is dedicated to boosting your skin's barrier by repairing, restoring and regenerating its structure and function. Fed up with the notion that skin should be age-resistant, pore less and flawless, BYOMA skin care revolutionises these unrealistic beauty standards through radical transparency. Uniquely formulated using a breakthrough Tri-Ceramide Complex, its formulas are designed to boost (and not break) your skin barrier. Plus, it's renowned neon-coloured bottles are made from recyclable materials too.
SHOP ALL BYOMA
BYOMA BESTSELLERS
added to your bag
Sorry, there seems to have been an error. Please try again.
Subtotal: ( items in your basket)
This order will earn status points
Quick Buy
Sorry, there seems to have been an error. Please try again.
DISCOVER BYOMA
Built on the understanding that if we stop stripping our skin and start boosting our barriers, we can find the key to brighter and balanced skin, BYOMA is derived by science and powered by actives. Founded by the ever-curious product perfectionist, Marc Elrick, BYOMA skin care is housed in vibrant pastel packaging that make for an unmissable feature in your bathroom cabinet and shower shelves.

MARC'S MARVEL
Dreamt up by Marc Elrick back in 2020, BYOMA was born when its founder started to play chemist in his own bathroom during the initial COVID lockdown. Experimenting with powerful actives, Marcgot lost in the science behind the skin and began to research how to enhance better skin stems from a boosted barrier. The result? BYOMA skin care.
BYOMA'S PLANET PLEDGE
Reuse, refill and recycle is the motto at BYOMA's HQ. With all the brand's products –from the BYOMA creamy jelly cleanser to the brightening toner –packaged in fully recyclable, 100%monomaterial plastic, it means responsible disposing of material is a breeze. Plus, BYOMA skin care is also refillable to encourage a 360 approach to the beauty industry. Always going one step further, the brand has also partnered with One Tree Planted Ahead Of Launch to help reduce carbon emission by planting trees.